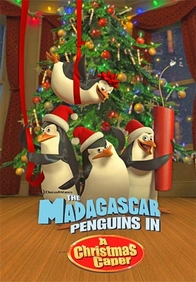 The Madagascar Penguins in A Christmas Caper is a 2005 short film. It is the first in the series to ever feature the penguins of Madagascar as the main characters.
Chris Miller as Kowalski
John DiMaggio as Rico
Tom McGrath as Skipper
Elisa Gabrielli as the Nana
Christopher Knights as Private
Hope Levy as an Additional Voice
Rif Hutton as an Additional Voice
Richard Miro as an Additional Voice
Mitch Carter as an Additional Voice
Lynnanne Zager as an Additional Voice
Bill Fagerbakke as Ted the Polar Bear
Sean Bishop as the Doorman/TV Announcer
Frank Welker as Mr. Chew
Ad blocker interference detected!
Wikia is a free-to-use site that makes money from advertising. We have a modified experience for viewers using ad blockers

Wikia is not accessible if you've made further modifications. Remove the custom ad blocker rule(s) and the page will load as expected.