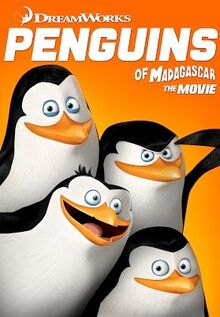 Penguins of Madagascar is the film following Europe's Most Wanted. it follows the penguins as they fight against Dave to save and protect the penguins of the world.
Tom McGrath as Skipper, leader of the Penguins and the oldest of the four brothers
Chris Miller as Kowalski,, the brains of the penguins and second oldest of the four
Conrad Vernon as Rico, their loose cannon penguin and the second youngest of hte brothers
Christopher Knights as Private, also youngest of the four penguins
John Malkovich as Dave
Benedict Cumberbatch as Classified
Ken Jeong  as Short Fuse
Annet Mahendru  as Eva
Peter Stormare  as Corporal
Andy Richter  as Mort
Danny Jacobs  as King Julien
Sean Charmatz  as Cricket
Werner Herzog  as Documentary Filmmaker  
Stephen Kearin  as Pilot / Aquarium Employee  
Kelly Cooney  as Mermaid Penguin 
Susan Fitzer  as Antarctic Penguin 
Chris Sanders  as Antarctic Penguin 
Emily Nordwind  as Antarctic Penguin 
Mike Mitchell  as Antarctic Penguin 
Hope Levy  as Antarctic Penguin / Woman at Aquarium 
Walt Dohrn as Antarctic Penguin 
Jim Pirri as Gondolier 
Elizabeth Pan as Shanghai TV Reporter 
Jeff Fischer as Security System Voice 
Stephen Apostolina as Penguin Prisoner 
Al Rodrigoas as Penguin Fan 
Steve Alterman  as Aquarium Announcer 
Carter Hastings  as Boy at Aquarium 
Ava Acres  as Girl at Zoo 
Cullen McCarthy as Boy at Zoo 
Nicholas Guest as Flight Attendant 
Adriano Aragon as Angry Man 
Lynnanne Zager as Computer Voice
Billy Eichner as New York Reporter 
Angie Wu as Girl with Snow Globe 
Ad blocker interference detected!
Wikia is a free-to-use site that makes money from advertising. We have a modified experience for viewers using ad blockers

Wikia is not accessible if you've made further modifications. Remove the custom ad blocker rule(s) and the page will load as expected.